We've been posting quite a lot recently about the 11 new roles (at the time of writing!) that we're recruiting for here at Evolved Search. But that's not all that's new around here. Thanks to exponential agency growth, we've also welcomed four new starters, seen a number of existing staff promoted, and there's even a new HQ on the way!
So, since it's been a while since we released a business update to the wider world, we thought we'd share the latest.
New faces join the team
We're buzzing to have found four talented gents to join our Technical SEO, Content Marketing, and Client Services teams.
Andrew Lambert joins the Client Services department as an Account Manager, David Atkinson and Jamie Glencross join the Content Marketing team as Content Marketing Executives, and Cade Whitfield joins the Tech SEO team as a Technical SEO Executive.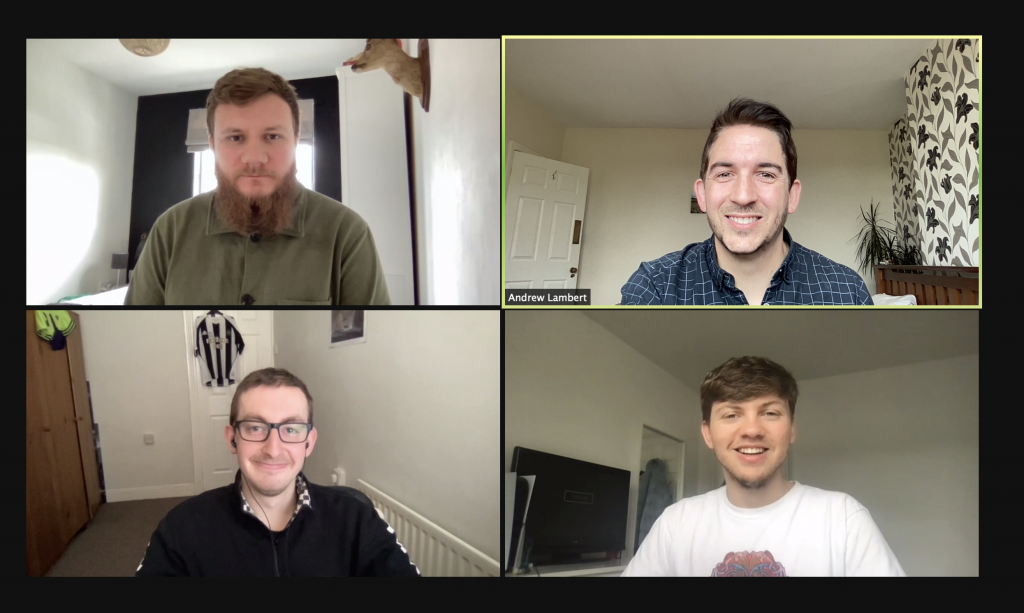 Cade, who – when he's not competing at an international level at backhold wrestling – joins us after spending time at a couple of local agencies and successfully completed a Digital Marketing apprenticeship to kickstart his career in Search.
Speaking of his new role, he said: "My experience so far at Evolved Search has been nothing short of brilliant.
"It's always hard changing your job let alone right in the middle of a pandemic but biting the bullet to send in my CV was the best decision I've ever made. With the support and guidance from not just the Technical SEO team but everyone at Evolved, I feel like I've found that spark again in my career that was slowly dimming as a result of the pandemic."
Andrew Lambert, or "Lambo" as he's now affectionately known by his new colleagues, joined the extraordinarily busy Client Services team a few months ago and he's one of two new starters in this division – the second to be revealed very soon.
He has almost a decade of account and project management experience, primarily in travel, events, and hospitality, overseeing commercial relationships with a large and varied portfolio of key accounts.
As a proud Geordie, Andrew was keen to take the next step in his career at a "company that was ambitious, driven and going places – with roots in the North East." He's already making huge strides with clients across a range of accounts and has slotted right into this action-packed squad.
David and Jamie, our new wordsmiths, have also made an immediate impact on our Content Marketing team. David joins us after many years in-house producing content, before taking the leap into agency land.
He told us: I've been following Evolved Search for a number of years now and have always been impressed by their client work, award wins and their Culture, with things like their charity work and generally giving back and supporting their staff.
"They seemed like a great team to be part of and so far that's definitely true!"
Jamie, our other new Content Marketing Executive, brings with him a degree in English Language from Northumbria University, and bags of experience producing content for in-house marketing teams. With a main focus on Content and SEO, he's had quite a bit of experience brainstorming and working on content marketing campaigns.
He too had some lovely things to say about Evolved, adding: "I'm looking forward to helping oversee a content process from start to finish, and learning more about what types of content perform well and why. Working across a range of accounts in the Automotive and Retail sectors will mean that every day is different and interesting, as well as challenging – in the most positive way!"
In addition to these four newbies, we're also looking forward to welcoming more fresh talent in a variety of roles. We're just finalising a few bits and bobs, so all will be revealed in another update soon.
A trio of promotions
We're proud to announce three promotions within the existing team here at Evolved Search.
Lucy Dodds has been promoted to Senior Content Marketing Consultant, Danny Gee has been promoted to Content Marketing Consultant, and Steph Holmes has been promoted to Digital PR Consultant.
All three have smashed their personal progression plans, contributing incredible work for clients and even – in Lucy and Danny's case – getting out there in the industry to share their knowledge, with Lucy speaking at BrightonSEO, and both Lucy and Danny speaking at CrawlError earlier this year.
It's fantastic to see these three moving on up and there'll be more to report soon on further progression within the agency over the coming months.
Big plans ahead
Finally, in other news, we're headed for a new HQ!
We spent several of our early years in the Toffee Factory and – in line with our agency growth and business plans – have decided to move on to a new office in the heart of Newcastle city centre.
Naturally, we're not going anywhere yet (thanks, COVID) but are hoping to move into our swish new space over the summer.
The new office will provide more space for collaboration, a convenient city-centre location for staff and clients to access easily when it's safe to do so, and – well – a tonne of great food and drink right on the doorstep!
We've got some fantastic new neighbours and are excited to get in there and give it the Evolved Search lick of paint, as soon as we're allowed to safely head back to the office together. Whilst a lot of the team have indicated they want to adopt a hybrid way of working, it'll be nice to have somewhere to congregate again.
Oh – and we're looking for a new Office Manager to head up the place!
We're also heading into year 3 of our ambitious agency growth plan, so will be sharing news on our progress in late summer. Our progress received the Prolific North seal of approval recently, with Evolved Search making a debut in the Top 50 digital agencies list, at number 35.
That's about everything for the time being, but if you're reading this thinking "this sounds a great place to work" then head on over to our Careers page and see what we have on offer.
You can also discover more about our Culture here.