We've just about managed to peel ourselves off the ceiling after picking up two huge accolades at last night's UK Search Awards 2021. After many years of wanting and entering, we've finally been crowned the Best Large SEO Agency in the UK (we won Silver at last year's awards) and also managed to bag our first-ever standalone PPC win, for our work with CarMoney!
The team headed to London for our first in-person awards event since before the pandemic and what a night it ended up being. We were shortlisted 7 times in total across 5 categories, celebrating our substantial gains with PPC clients and our agency overall in the big agency categories for Search and Integrated.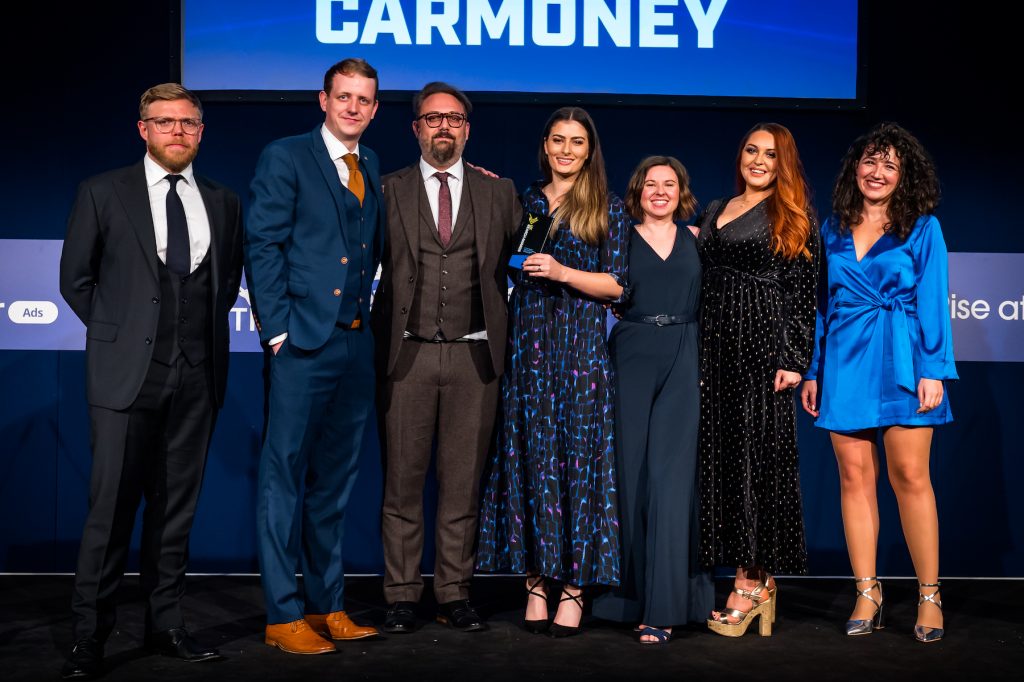 This year was the 10th annual UK Search Awards, celebrating the very best in Search Marketing campaigns, tools, individuals and agencies. As it no doubt is for most, winning the coveted Best Large SEO Agency award has long been an aim of ours and we were up against some incredibly brilliant competition, so it's really something special to have won this year.
As equally as amazing is our first-ever PPC award win, won by the brilliant PPC team who have been working hard on redefining our service and achieving some great client results along the way. Head of Paid Marketing, Louayy Haqqi, and Senior Paid Marketing Manager, Jasmine Burn, were both there to accept the award last night and are delighted the CarMoney campaign has been celebrated in such a significant way.
Jasmine said: "It's all well and good making the numbers in-platform look great, but the real satisfaction comes from seeing those internal results which drive the greatest impact for the client. We've enjoyed getting stuck into CarMoney's overall Paid strategy and are seeing great improvements across the board. This award is the icing on the cake!"
What's next for the UK's Best Large SEO Agency?
We're getting ready to welcome a couple of new faces to the agency that will help us further develop our service offering and continue to raise the bar in terms of the campaigns we deliver.
Aside from this, the whole team is heading to London for our Christmas party soon, where we'll celebrate a fantastic year in terms of financial performance, team growth, and yes – some pretty damn special award wins.
As ever, we couldn't do any of this without the brilliant people we have the pleasure of having in our team, so thank you one and all for your continued efforts. We're the Best Large Agency because you're the best!
P.S. If you like the sound of Evolved and want to join the gang, head on over to our Careers page to see what we currently have on offer, or if you're a business looking for a new agency in 2022, get in touch here ?