There's an overwhelming amount of news and information about COVID-19 right now and like every business in the UK, we've spent the last few weeks monitoring, adjusting, and trying to manage this "new normal" as best as we can.
Evolved's MD, Ian McIntosh, has shared some thoughts and how we're handling it as an agency, here. Our focus is supporting clients in any way possible and continuing to deliver and adapt our work, navigating them through the uncertainty and making sure momentum does not slow down.
The key questions that many businesses are asking, both internally and to ourselves, as they review their costs and plans are what's the impact on our search strategy and why should we continue to invest in Search Marketing during COVID-19?
This is our advice to those that are reviewing their marketing plans and considering where organic and paid search fit into that during the crisis.
The algorithms haven't changed
When you work in SEO, you become accustomed to a level of uncertainty and apprehension when it comes to the major search engines.
A typical day could be finding that a significant update has been rolled out, a website change that you recommended had an adverse effect, or an important ranking has dropped out of the blue.
Although it's natural for businesses to worry or panic, the response should be to revert to the overall strategy and best practices. This will provide reassurance as regardless of how many "changes" are made to Google's algorithms (there were 3,200 updates in 2018), the core principles and guidelines remain the same.
The world may feel different to two weeks ago, but SEO is not. It's an investment of time and resource, and once this slows down or stops, you are risking your long-term performance.
These are just two examples in highly-competitive industries, showing a decline in organic visibility after stopping SEO, over an initial six-month period (orange) and beyond (red).
Competitors are slowing down
There will be some businesses that simply won't have the budget or resources for SEO right now, which is understandable, but they may find themselves in a weaker position, long-term, as a result.
This could include your competitors and with the usual competition of brands trying to gain ground on each other, now could be the best time to seize the opportunity and overtake.
We use a lot of motoring analogies at Evolved Search, with automotive being one of our key sectors and plenty of petrolheads in the office. I like this one on the CXL blog, citing a Bain study, about the behaviour and strategies of companies that succeeded during and after a previous recession:
"Think of a recession as a sharp curve on an auto racetrack—the best place to pass competitors, but requiring more skill than straightaways. The best drivers apply the brakes just ahead of the curve (they take out excess costs), turn hard toward the apex of the curve (identify the shortlist of projects that will form the next business model), and accelerate hard out of the curve (spend and hire before markets have rebounded)."
Think like an airline
It's clear to see that the travel industry has taken a huge hit during the Coronavirus outbreak. It was the final straw for Flybe as they went bust, Richard Branson is asking for a government bailout to help Virgin Atlantic, and the chairman of IAC has warned that Expedia is expected to lose $30 to $40 million because of the pandemic (Search Engine Journal).
It seems there's very little that can be done until this all passes, however, many airlines have responded by focusing their efforts on the end of the year, when we're hopefully going to be through this. Winter flights have been announced and promoted early, and more flexible cancellation policies are being introduced, prompting an upward trend in bookings for January 2021 (Sojern).
When it comes to SEO, your strategy should already be focused on the long-term, so maintaining and improving rankings now will help your business to benefit as everyday life and market demands return to normal later in the year.
Demand is temporary
The uncertainty at this point makes it difficult to forecast and plan, and it's no different when it comes to search.
The downturn that most businesses are seeing is clearly reflected in average search volumes and client Search Console data, with fewer people searching for certain products and services.
For every spike in 'toilet roll' and 'video conferencing software', there have been just as many terms plummeting. Seasonality is always a factor that needs to be factored into your search marketing strategy, so it's important to remember that these levels of demand are temporary, whether it's increased or decreased, and you need to be ready for the recovery.
Research from another Bain piece highlights three distinct patterns of retail recovery following crises in Asia:
There's also this Moz post from 2008 that's particularly useful (H/T Distilled), outlining reasons that companies continued to invest in SEO during the economic crisis, with many looking to benefit during and after the downturn.
Buying habits will no doubt change after this crisis and businesses need to be prepared and ready to capitalise, with available time and resources invested now to do just that.
Paid will be the obvious cutback
With the UK in lockdown and businesses unable to fulfil product orders and services, there's an obvious cutback to be made in paid media and Google Ads spend. This has been happening at brands and agencies across the country (including our own) and there's word that Google will show its first-ever decline in ad revenue as a result.
There are some clients and businesses looking at the wider opportunity, however, as we monitor the ever-changing landscape and use this time to sweep up on cheaper leads and maintain accounts.
There's a strong chance that brands will be ready to switch their paid activity back on just as quickly as it's been stopped, and with that will come increased competition and bidding, driving up your usual costs.
Being the business in your space with the highest quality scores, ads already performing, and spend increasing incrementally before this rush will only be a positive.
SEO is all-encompassing
As seen in this poll from Search Engine Journal, organic as a channel usually accounts for the largest portions of traffic and revenue for an online business, and in turn, expected return on investment.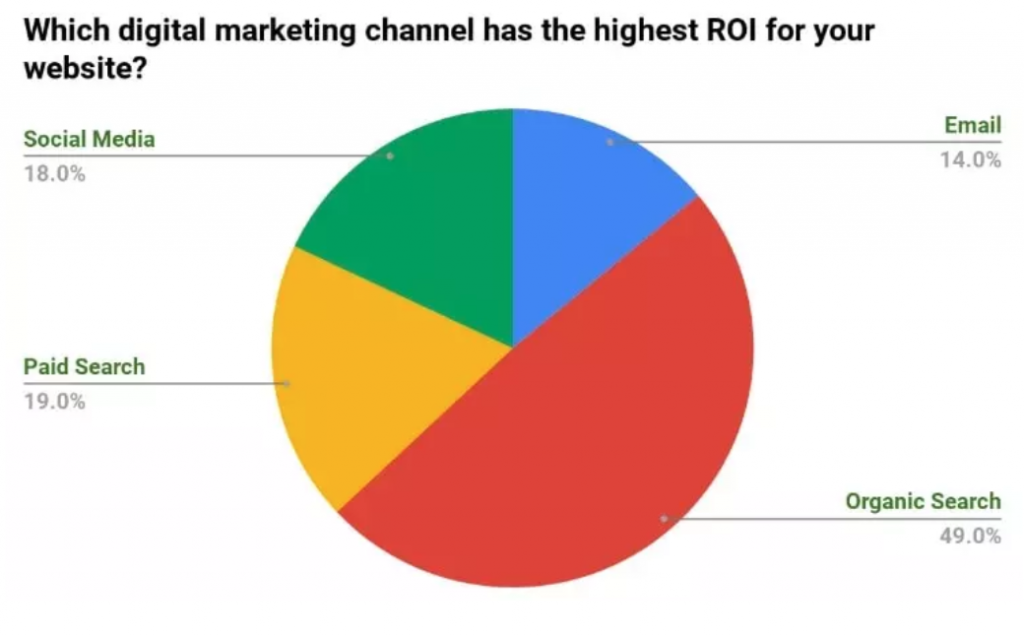 However, there is a lot more the channel is responsible for, from attracting new users, supporting other channels, right through to after-sales and customer retention.
As well as key product and services pages, potential customers need to be able to find and access a wide range of content and information, and the multiple touchpoints that occur during a typical journey stretch far beyond ranking top for that one specific keyword.
Even if users aren't purchasing or committing right now, the amount of people browsing online is as high as ever, with Virgin Media stating that daytime internet usage has roughly doubled in the UK, providing opportunities to be visible and nurture potential future revenue.
Your SEO strategy should be all-encompassing and continuing to work hard during this time of crisis.
If you have any questions or want to chat to us about your search marketing during COVID-19 and beyond, get in touch.