If you're on the lookout for a new mattress, there's a high chance you'll start your search with the big hitters, such as Dreams, Mattress Online, time4sleep… But, why do we all instinctively know so much about these online mattress retailers?
That's because they are packing some serious punch when it comes to content marketing and building their brand online. Unless you've been living under a rock, you'll know for certain that in today's demanding digital world, it's simply nowhere near enough to just expect potential customers to come straight to you without any effort or investment.
If that was the case, agencies like us wouldn't exist.
Brands need to consistently give customers a reason to find them and keep them coming back. A lot of the time, they do this via ongoing, strategic content marketing.
Content marketing is designed to target those yet to discover your brand without the hard sell. If you talk about stuff that your potential customers care about, then you are already onto a winner. And, you can guarantee that the more they see you, the more likely they are to remember your brand when it comes to getting that new mattress.
But it goes deeper than just discovery. Online mattress brands today are – like many others in the eCommerce sector – understanding how important multimedia content is, across topics that appeal to the wider interests of their target audience, beyond just the need for a mattress.
They want to build communities of engaged audiences that will not only buy for them but share their content and advocate/recommend to others, too.  
It's also important to build trust. A few bad reviews can travel a long way and brands today need to create deeper relationships with their customers. So, it's vital that brands communicate more than just about their products and prices to build a relationship that lasts.
So we thought we'd share some of the best examples of content marketing across the online mattress market, to provide food for thought for dreamy content that might just inspire your next campaign…
Creating a soundtrack for a better night's sleep
We, obviously, had to share our content for industry giant, Mattress Online, first.
Lockdown has left plenty of us struggling to sleep, so we thought about what we could do to help. We wanted to create something that people could actually use to hit the land of nod, and that's where the Sleep Soundtrack was born – providing over three hours of music scientifically designed to send you off to the land of nod.
This campaign earned Mattress Online 28 relevant links, on titles including Bustle, Wales Online, Derby Telegraph, Music Think Tank and Positive Health. Given that any brand can create their own Spotify playlist relatively easily, there's a HUGE amount of potential in incorporating different platforms into your campaigns.
So, why did it do well?
We all sleep, and judging by search volume, a large portion of us want to know how to do it better.
We spend around 26 years of our life sleeping, so you can bet that it's relevant to customers.
It directly relates back to the brand and the products offered. If they are providing such great tips to aid sleep, think about what their mattresses would be like.
It offers an additional asset for journalists to write about and share, meaning they are more likely to add that all-important link.
Lastly, it was bang-on trend in the height of lockdown.
Match your dog's bed with yours
Almost a quarter (24%) of the UK's population own a dog. So, Time4Sleep gripped our emotions by producing a bespoke range of dog beds that resemble human beds.
Tapping into a billion pound industry, this campaign received coverage in the likes of Tyla and Metro. Not only that, but they were also able to push the matching human beds so you could sleep side by side with your pooch. Clever, right?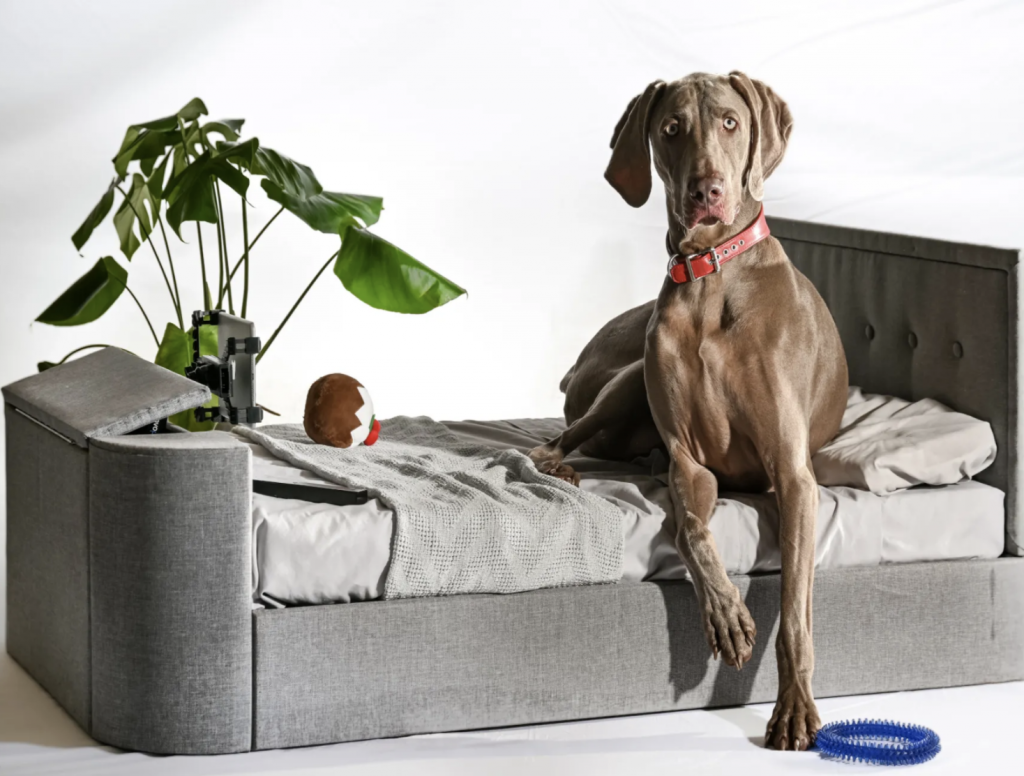 Why it worked:
Over a quarter (24%) of the UK's population own a dog, so you are targeting a large amount of potential customers.
The pet industry is worth billions, so there is money to be spent there.
It's cute. This is the type of story that you see on social media and share with your friends and family. The best content campaigns tap into your emotions and make you feel something and provoke a response.
The UK's messiest bedroom
Ever got into your bedroom and just threw what you were wearing on the floor before climbing into bed?
Bed SOS has, apparently, had their fair share of experience in this arena and decided to hunt down the UK's messiest bedroom, offering a hefty £400 for the winner.
Just looking at some of the images makes our skin crawl, but as far as eye-catching campaigns go, this is certainly one of them!
What do you need to consider?
We've seen a lot of competitions in the past, and they can work well if executed correctly. It all depends on the relevancy to the brand, the time in which you promote the story and the story itself. Is it interesting? Is it something we can all get behind?
Another thing to consider is if this is something you'd chat with your friends about. Could you talk about this at the pub? If so, then you're guaranteed to get people talking and it's a great place to start with content marketing topics.
Happy Beds do this regularly as well, providing reactive campaigns looking at Christmas bedding trends and tips to stop your partner from snoring ahead of National Snoring Week (yes, that is a thing).
What are the trends in these campaigns?
If you look closely at the examples (and believe me, we have), you can see similar patterns in them all:
Target audience – The content is produced with their target audience in mind. Take the Sleep Soundtrack, people struggling with their sleep are likely thinking about ways to improve it, including buying a new bed. And those are the people Mattress Online wants to target.
Expertise – They show the brand's expertise in the field by providing content that, at its heart, is useful.
Additional campaign assets – They are visual and include additional assets for publications to cover, whether that be products, Spotify playlists or a competition.
Relevancy – They are relevant to the brands and the specific industry.
On Trend – They were bang-on trend when they were released, hence the good coverage.
Why does this type of content matter?
Content marketing is a surefire way of building your brand. You're putting your name in front of the right people, so when they need your services/product, they'll know where to go.
Google values authoritative, industry-leading content. And, not only that, but two of the top signals that they use in ranking your website are: backlinks and relevant content.
Another relevant, quality website linking to yours is a vote of confidence, if you will, to search engines. What that means is that, in time, you'll start to see increases in your visibility which leads to more traffic and, importantly, customers.
But as we've seen, it's not just about creating any type of content. You should be aiming to create engaging, relevant and trustworthy content, to help build those high-quality and relevant links back to your site.
This has long been our focus in the mattress sector and has seen us create shareable and knowledgeable content such as 'how to keep your bedroom warm', receiving 69 quality links and even 'how to beat bedroom toxins', landing 70 links in total.
How can you do better
Firstly, you need to speak to us. We have an experienced creative team who have a proven track record of building an online presence in the industry.
Once, you've done that, there are a few tips to always remember when trying to create quality content marketing ideas that resonate:
Think of your audience. Put yourself in the shoes of a potential customer and what they care about, so you know that you are creating content that resonates with them.
Use your data. You know this business better than anyone, so use the resources you have to hand. You can pitch this unique data to publications and the more quality info you have on the industry, the more likely they are to link.
Use your team. There is always an opportunity to provide expertise. So, if you have a dedicated 'sleep expert', for instance, they can be an authority for quotes/case studies regarding that topic and you can get the link.
Think visual. If you are creating campaigns, offer multiple assets. That's what we did with the Mattress Online 'Creating a Soundtrack for a Better Night's Sleep'. Offering a Spotify playlist ready to go makes this campaign all the more exciting.
And if you are still wondering what more you can do to land the best coverage and start building the brand, particularly if you're in the online mattress business, you can get in touch with us for help on your content marketing strategy. 
Looking for more insights on the Mattress sector?
We can help with that!
Download our free Search Competitor Insight Report, diving into the performance of key brands such as Dreams, Eve, Mattress Online and many, many more.