Have you noticed your competitors gaining coverage in your dream publications? Are your competitors engaging in conversations that YOU should be in? In this article, we will take you through the key differences between proactive and reactive campaigns and why they play an important role in your digital PR strategy. 
Digital PR is all about taking your brand one step further; it's a fundamental tactic of a cohesive SEO strategy. If you aren't doing it, you might need some help – that's where we come in. 
Digital PR campaigns gain backlinks to your website, ultimately building visibility, trust, and awareness for your website in the eyes of Google. 
But it's not always easy, especially without a dedicated team monitoring the ever-changing news cycle and understanding what strategy you need to gain those high-quality links. 
So what should you create? Why is it important to produce different types of content? 
It's no good creating hundreds of different digital PR campaigns and hoping that they get featured on your dream publications. That's a waste of your time and it won't get you the results you need. Instead, you need the right strategy and the right experts to establish you as an authority in your industry.
Both proactive and reactive campaigns enable you to build links on new referring domains in publications that you may find difficult to gain links from with other types of content creation. For example, these campaigns can get you involved in a fast-paced news cycle, which can be difficult to do with hero campaigns. Nevertheless, while these campaigns require little to no budget to create they also yield more investment of your time. 
The result? A diversified, relevant, and strong backlink profile, positioning you as a credible source within your respective sector. 
But to do this, you need to understand what your industry needs and the different types of campaigns you should be creating to target those trusted, topical publications. 
What's the difference between proactive and reactive campaigns? 
Proactive digital PR refers to story-led campaigns that could take the form of listicles, tips and hacks or using data sources to position you as an expert in your industry. Proactive campaigns motivate you to take control of a story and create a new and unique narrative. 
Reactive content refers to campaigns that are news-led and can often take the form of expert comments on topical events or existing stories (also known as newsjacking). These are created in reaction to a particular existing news story. 
With reactive, you, typically, can't plan ahead. However, with proactive, you can and should create a strategy around upcoming events that are relevant to your brand. But, we'll go into that in more detail. 
What is proactive content and how can it help you achieve your goals? 
As mentioned, proactive PR can take many forms. We plan them around relevant points of the year such as awareness days, industry events, and seasonal trends. For instance, if you are a travel company, the school holidays would be a focus for proactive content. 
But it's important to remember, to get the most out of this type of campaign, you need to form a detailed plan for creating the content and a strategy for targeting the right publications (the ones that are really going to move the needle for you), which can be difficult without the right team. 
Why is proactive content good for SEO? 
Proactive content helps us target more niche, topically relevant publications in your sector. By doing so, we can boost your website's relevance and credibility. 
As these types of campaigns are smaller than hero campaigns (which often feature large datasets, visual assets, and, in some cases interactive assets), we can create more of this type of content that is suited to specific publications. But what does that mean? 
Let's take the travel example again. If we were to create proactive content, we would look at some of the most common questions surrounding the school holidays and create unique campaigns that answer some of the most fundamental and searched-for questions.
During the holidays, parents are, typically, looking for tips on travelling with their children. So, we could create a proactive campaign such as: 'This one hack is guaranteed to stop people complaining about children on planes,' where we use your expertise on the one tip that parents need and why. We could then build up those tips into other listicles that could be used for half-term and even Christmas holidays – building a useful resource for parents that, ultimately, drives links. 
We know that this type of campaign will help generate coverage in highly relevant travel publications, boosting your authority in the sector. 
We've listed some examples of how we have utilised a proactive campaign strategy for our clients. 
Vanarama and spiders
Every autumn, we face a barrage of spiders. If you've ever spotted one in your car, you understand the terror. Our client, Vanarama, shared tips on how to keep those creepy crawlies out of your car and avoid any potential fines for not having proper control of your vehicle if you were to spot a spider. 
This campaign featured in highly relevant publications such as the motoring section of The Sun and, of course, is a campaign we can use each time the spider population is high. 
GRIDSERVE and winter de-icing hacks
We know that every year, we'll be getting a cold snap in Britain and, therefore, people will be looking at hacks to keep their cars running efficiently. Using that to our advantage, we planned a proactive campaign for EV drivers around how they can utilise a specific feature to avoid windscreen frost and fines. 
This campaign directed 183 deep links to the GRIDSERVE blog post and, of course, can be utilised again each time we face cold weather. 
How does reactive content come into it? 
This type of digital PR campaign is done in reaction to something and, therefore, not typically planned ahead. Reactive campaigns don't always need to sit on your site either, but it's extremely important that the news is reacted to as soon as possible. 
That's why reactive content can be hard to do in-house. You need to be fast and, more often than not, react to a tight deadline. 
How can reactive content benefit your business?
Ultimately, creating reactive digital PR campaigns will help position you as the expert in your field and boost your website's authority. Why, you might ask? Well, when it comes to reactive campaigns and expert commentary, we'll target the publications that are relevant to you and the topics being discussed within your industry. 
One tactic that can be instrumental to reactive campaigns is to use tools such as Response Source, Haro, and Editorielle to respond to requests from the publications your competitors feature on but you don't, diversifying and strengthening your backlink profile. 
With reactive content, we can also insert you into conversations you should be involved in by reaching out to journalists who would benefit from your expertise. 
From doing this type of work, we tend to build relationships with journalists who often come to us for commentary on topics relevant to our experts. 
Below are some examples of how we reacted to news trends for our clients. 
Angelic Diamonds and Victoria Beckham
For our jewellery client, Angelic Diamonds, we jumped straight on the hype of the Beckham Netflix documentary airing. But, we took a different approach. We wanted to build relevant, high-quality links to the client's engagement ring category page to help support those revenue-driving keywords. 
In order to join the conversation and build relevant links, we valued all 15 engagement rings (yes, that's 15) David has gifted Victoria. 
The result? Seven top-tier links to the engagement rings category page, including Daily Mail, NY Breaking, Hello! and The Mirror.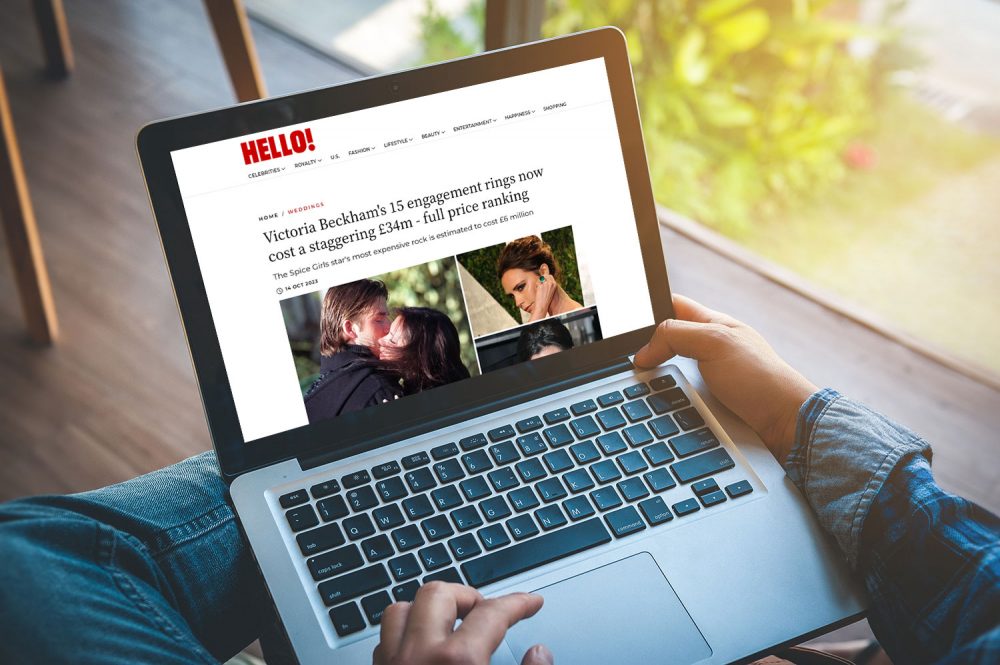 Rightboat and Below Deck
Below Deck and its respective franchises are some of the most popular reality shows of the moment. So, naturally, our client, Rightboat, was the best fit to reveal the priciest superyacht to charter, because we all really want to know how much those guests are spending. 
This reactive campaign, created in response to a new series of the show starting, landed 15 links including Yahoo, Robb Report (a highly relevant, industry link), and Cheat Sheet among many others.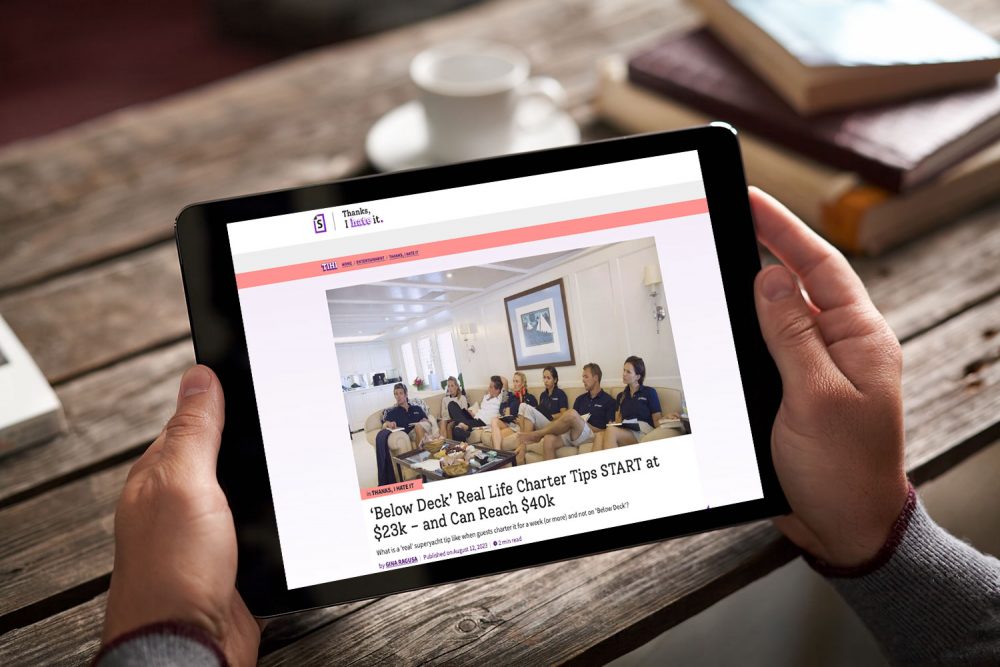 Understanding what campaigns YOU need 
Many brands aim to build as many links as possible regardless of objectives. However, we take a more strategic approach; building links that will actually make a difference and have a direct impact on your business goals. 
We start with conducting a thorough analysis of your industry. This is completely bespoke to you, we look at your competitor's backlink profile, how they are gaining links (whether that be proactive, reactive PR, or product PR, for example), the types of campaigns that work in your industry, and the ones that don't. 
Ultimately, our data-led approach to digital PR helps us create a clear strategy that will build awareness, trust, and visibility. Subsequently, this will drive relevant traffic to your site and increase your revenue and profit. 
Are you ready to talk about our organic search services? If so, get in touch with us today.