As the UK 2022 golf season sprung into life this April, US Masters champ and World No.1 Scottie Scheffler isn't the only American occupying the top spot, and there will be no surprise to those working in the industry that Americangolf.co.uk are leaders in the golf retail clubhouse when it comes to Search performance.
What may be surprising is that Scottie Sheffler's mammoth pay packet for winning the US Masters (circa a cool £2.1m!) would only pay for around two months of Americangolf.co.uk's SEO traffic.
Leading the way for several years, they have the most visible domain in the UK for golf retailers across Google, netting them an estimated 1.4m monthly organic visits alone, and showing a potential value of £960k per month.
The golf industry as a whole benefited from a pandemic surge in 2020/21, with 5.2 million total adult golfers on full golf courses – an increase of 2.3 million. American Golf has reaped the benefits of this surge and improved revenues by 48% to £166m for the year to January 2022, with over £44m of this revenue coming directly from eCommerce.
But, are poor Page Load Times (PLT) costing American Golf over £105k of SEO traffic every month?
The revenue figures above will be the envy of many across the industry, but when we follow Google's estimates on bounce rates, we can pinpoint something less enviable for the major retailer, in that around £105k of their monthly SEO traffic will leave the site without purchasing. That's a whole lot of missed opportunities.
Don't believe us? Here's what Google had to say about PLT:
In our modern age, it's safe to assume that potential customers expect even more in 2022, are less forgiving of a slow PLT now than they were in 2017, and will be more likely to bounce without browsing the site if it's not performing adequately for them.  If this is true, the cost to American Golf could actually – worryingly – be much higher than £105k per month.
Golfbidder.co.uk were the only site surveyed to show impressive PLT, so they should be in a great position to take advantage of keeping a higher percentage of their website visitors on-site for longer, and are likely to convert that traffic into paying customers at a higher percentage than their competitors.
Mobile Page Load Time (PLT)
In January 2022, Broadbandsearch.net found that mobile searches consist of around 60% of all search volume, but since many businesses have still failed to perfect their mobile experience (despite it being a major ranking factor), the average conversion rate for eCommerce was a mere 4.81% for desktop and only 2.25% for mobile.
With the exception of Golfbidder.co.uk, which leads the way with a 4G PLT of 4 seconds, all of the top 5 perform poorly in this area (Americangolf.co.uk – 16 secs, Clubhousegolf.co.uk – 15 secs, Affordablegolf.co.uk – 20 secs, Golfonline.co.uk 17 secs, Onlinegolf.co.uk 24 secs), and, with an average of 14 seconds across all of the brands analysed, suggests there is major room for improvement across the board and opportunities for those who do.
So what can you do about poor Customer Experience on mobile?  
The first thing to do is to check out the section below on User Experience and look into a mobile performance-based optimisation project.  Your site may benefit from a single project aimed at improving both desktop and mobile at the same time, but it is likely to require a reasonable amount of testing designed specifically for the mobile site alone.
Do the brands we analysed need to improve their onsite User Experience (UX)?
We chose to include the five golf manufacturer brands with the best overall SEO visibility, whilst also selling products across all categories in our report: Callaway, Titleist, Ping, TaylorMade and Cobra.  None of the brands performed particularly well versus the specialist golf retailers, and it was a little surprising to find that only Titleist and Callaway offered their customers partial direct to consumer eCommerce.
In an attempt to analyse these brands against one another on a level playing field, we looked into their golf club product pages from a UX perspective.  We found that Callaway is leading the way on UX scoring a total of 7/10, offering features such as Price, Product videos, Available lofts, and a Find a Retailer button. Titleist and Ping came in joint second place with reasonable scores of 5/10.
How improved UX can help you achieve multiple gains
10 years ago Amazon calculated it would lose $1.6 billion per year if its site speed slowed down by just one second.  What would that figure be today?
It takes a lot of investment, effort and expertise to get consistently high numbers of potential customers to your website via organic traffic, and it only takes a few seconds of frustration before they bounce without browsing, never mind spending a penny.
With 4 out of the top 5 performers showing slow site speeds across mobile and desktop, there is a clear opportunity for anyone to improve their rankings and on-site conversions by focusing on improving their User Experience (UX), and PLT would be a great place to start.
Retailers that do this will not only benefit from lower bounce rates, and better conversion, as Google has made it very clear they want to return results that are the best experience for its users, but they should also get the added benefit of better performance across search.
'Improving your User Experience' is a bit abstract, so where do you actually start?
A performance-based optimisation project is the best place to start.
If you are considering experimenting with changing a live site, please don't.
You'd be a lot better off analysing actual user behaviour to find out where your website is failing you, and this requires testing.  A performance-based optimisation project can be small or large in scope, and clearly, the speed and breadth of improvements will depend on the resource you have available, but whatever the scope, it is likely to start with a few simple questions such as:
What are the obvious areas to test first?
Where are we likely to make quick wins?
Where are users getting stuck and leaving the site?
Which pages have the highest bounce rate?
Which pages have the most traffic? Can we improve conversion on them first?
If you increase traffic, reduce bounce rates, improve customer experience, and improve your conversion rate, then it is safe to say that an increase in revenue will follow.
In summary:
We've found that none of the major players in the sector are perfect, and in the report, which you can request to download via the image below, you'll see that – despite American Golf's lead over the industry – there are tonnes of opportunities for their competitors to close the gap and reap the rewards by executing digital best practice across Search, Digital PR, CRO, UX, and more.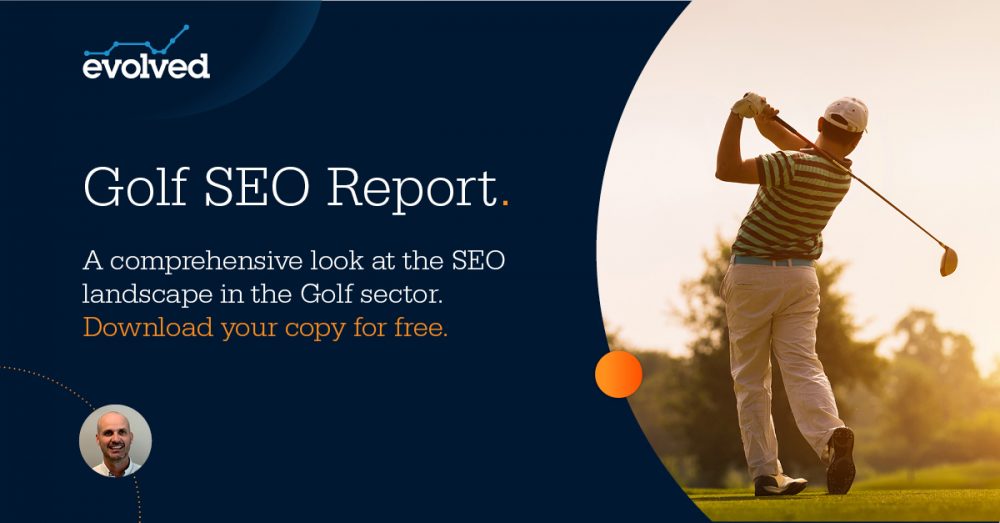 If you are interested in learning more about the work we do with clients and seeing how your business could benefit from our approach, it would be great to start a conversation. Get in touch or give us a call on 0800 043 0173.