We're thrilled to share that we've retained our Google Premier Partner status for 2023.
That means, basically, we're in the Top 3% of Google partner agencies for client growth, retention and product diversification.
Or in other words, we're "well in there" with the world's foremost search engine. Handy!
In seriousness, the Premier Partner scheme is designed to celebrate the Premier Partner agencies for their adherence to strict performance guidelines, set by Google.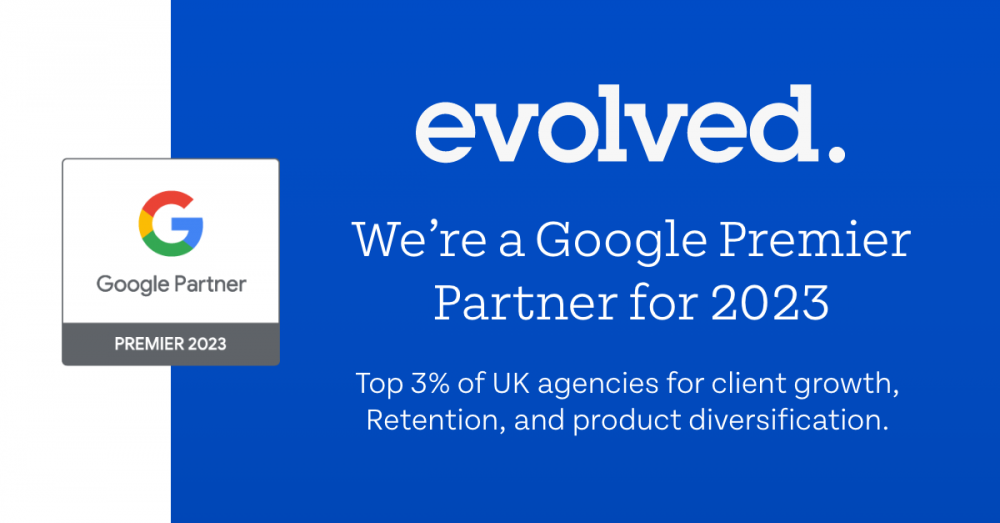 These guidelines include client ad spend, number of clients, the skill and certifications within the team, client results and more, and fulfilling these guidelines sets these agencies (like us!) ahead of the rest, giving them access to exclusive perks such as Beta access to products, customer behavioural insights, learning resources directly from Google and much more.
There have been a few changes recently in terms of certifying what exactly makes a Premier Partner agency, with these coming into effect last year when the new Premier Partner agencies program was established. The changes mean that only those agencies in the top 3% can be awarded Premier Partner agency status, whereas before there were more agencies able to join the scheme in different levels/tiers. This new way of accrediting agencies meant that those awarded really are the crème de la crème, in Google's eyes, when it comes to Paid performance.
"I'm delighted that the team has secured our Google Premier Partner status for another year and am proud to see them continuing to maintain our best-in-class status and enjoy the rewards that come with it.
More importantly, this ensures our clients have access to a Google-trusted and certified team of experts, can stay on top of industry insights and trends, as well as enjoy a VIP connection with Google all targeted to driving maximum performance and success for their campaigns."
Louayy Haqqi, Head of Paid Marketing
So here's a little more about what clients can benefit from in working with one of Google's Premier Partner agencies:
Access to advanced and priority Google Ads support.
Beta product access means that if there's a new feature or tool on its way to the masses, clients of Premier Partner agencies will be the first to know and in the front of the queue to try and benefit from them.
Exclusive insights from Google into customer trends, behaviours, and specific sector insights.
Google has also been known to hold events with Premier Partner agencies in the past, and that's something we're hoping to look at doing in the future. Again, our clients will be the first to know and benefit from this.
If you're keen to work with a best-in-class agency to deliver against your Paid Marketing objectives (and perhaps one who ran the Best PPC Campaign in the UK recently, according to the UK Search Awards!) then do get in touch.
We'd love to find out more about what you're trying to achieve and discover how we might be able to help.