A 26-mile walk for three incredible charities? Completed it, mate! The latest fundraising event at Evolved Search has managed to bring in over £4000 for three brilliant charities.
Yep, that's right. We weren't put off by the previous marathon walk for charity and decided to take on another team challenge at the end of June, hiking throughout Kielder Water with the aim of raising £2250 to be shared equally between three charities close to our hearts: Tyneside and Northumberland Mind, Nerve Tumours UK and Brain Tumour Research.
Not only did this bunch of legends actually complete the walk, but they've also managed to raise £4,045 – and counting. This means that our charities will be receiving around £1300 each – almost double our initial target!
Before COVID-19 scuppered every plan going, we'd planned some pretty ambitious team fundraising activities, which obviously had to be postponed. We've been able to still keep on at our fundraising, however physical events like this just weren't possible for the majority of the past year, so this one was extra special. Some of the team had never actually met their colleagues in person!
The 16-strong team battled through muggy forests and wet weather, blisters upon blisters and trekked over 60,000 steps (even more for some of the shorter members of the team!) to get to the finish line. Despite classically British wet weather and some seriously sore feet and legs, everyone had a fantastic day and would do it again, so we might have to hold them to that.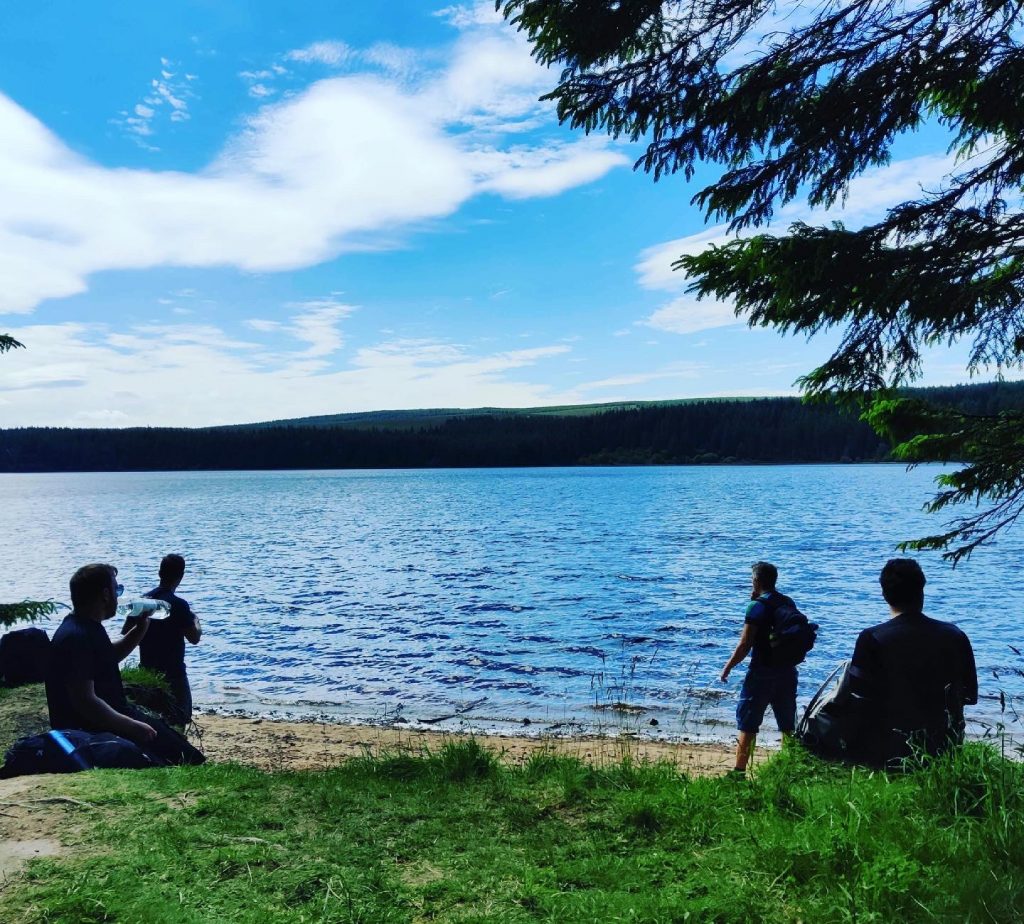 Lucy Dodds, a Senior Content Marketing Consultant, said: "After pretty much not moving from my room for an entire year, the walk was really tough! I was on the last one, but this was much harder than I expected. Luckily it was really lovely to see colleagues again – including some new faces I'd never met before – so we were all chatting constantly.
"Most of the day flew by until we started to get knackered (and a bit soggy off the rain), but it all ended in some cheers and claps when we reached the end (and a pint, of course). My heart rate monitor reckoned I burned 4,000 calories, which hopefully makes up for the thousands of Haribos I ate along the way!"
It took the team over 11 hours to complete the 26-mile challenge in total – including pit stops throughout, with around 8.5 hours of solid walking during that period. What was interesting is that some of the taller members of the team managed to do around 5,000 fewer steps than some of the shorter ones, as shown below by Brian and Hayley's step counts!
Our current fundraising of £4,045 takes our annual charity fundraising up to £9,701, so there's just a little bit left to tip us into £10K territory and we still have a few other activities up our sleeve before the end of the year.
Fundraising is still open, so if you're feeling generous and would like to sponsor the team for their incredible efforts, you can do so here.
We'd like to say a big well done to the team for completing this challenge and to every single person who has sponsored their efforts so far.
Three vital charities will be getting a decent sum after what's been an incredibly tough year for the charitable sector, so we're really happy to have been able to do our bit! ?