Like thousands upon thousands of businesses across the country – and indeed, the world – we've been fully remote for around 6 weeks now. We've made a few changes during this period to protect the agency in the long-term, which you can read more about here, and we've also had 5 new team members join Evolved Search so far during 2020, two of whom joined us during social distancing measures.
We like to make a fuss about our newbies and usually, there's a big in-person welcome of some sort. However, these are "unprecedented times" (we hope you've not had to type that as many times as we have!) and therefore, a digital welcome is all we can do for now.
So let's meet them all, shall we?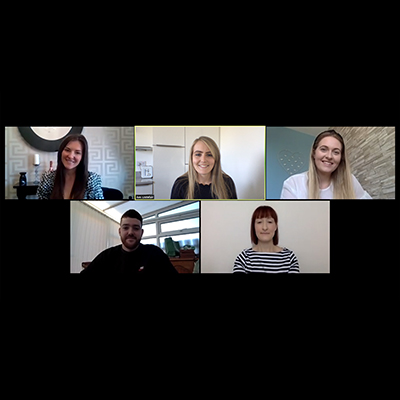 First up, a big welcome to our new Head of People, Sinead Halliwell. We've been looking for the right person to take the reins on all things 'People' here at Evolved Search for some time, ensuring we keep being a fantastic employer and offer our team what they need in terms of development opportunities, upskilling, progression and more.
Sinead comes to us with vast experience in Human Resources, gained in a wide range of sectors including Security, Oil & Gas and most recently, in Global Retail for the locally-born menswear brand, END.
Sinead has led a number of large-scale People transformation projects, including the Athlete's Village at the 2013 Commonwealth Games, several European office/branch openings and a large-scale warehouse move. With all this experience, plus CIPD qualifications, we knew she was the perfect fit for our growing agency.
Despite joining us during the period of social distancing, Sinead has already been hard at work tackling projects including our culture manual & values, as well as organising a number of wellbeing initiatives for the team.
Ian McIntosh, MD at Evolved Search, said: "Our people are our greatest asset and we want to ensure we're attracting and retaining the best people and truly offering something to enrich their career during the time they spend at Evolved.
"Whilst we've done a decent job of that so far, the time came where we needed specialist HR knowledge in-house, so I'm delighted that someone of Sinead's calibre has joined us at this exciting time", he continued.
In the Content & Outreach team, we've welcomed three new people; Danny Gee as Content Marketing Executive, Ami Littlefair as Digital Graphic Designer and Beth Watson has joined us as Digital PR Manager.
Both Beth and Ami joined us in March, however, Danny started on our second week of remote working, so definitely a different start to a new role!
Danny has gained both Digital PR experience and extensive motor industry experience in a content marketing role, which is coming in mighty handy for use in our growing auto client base (more on that very soon!). In addition, Danny bagged himself a degree in Journalism from Northumbria University and has a penchant for all things football, food and cars.
Ami also joins us with a wealth of digital design experience gained in agencies, software, and most recently a nationwide car retailer, where she worked with 19 top car brands. She's putting all of the above to good use in the creation of the digital content we're so well known for, as well as adding animation to the mix, as she continues to develop her skills in Adobe After Effects.
Speaking of her new role, Ami said: "I wanted to join Evolved Search as I was really impressed with their reputation, the growing number of industry awards they've won and the evident personality across the agency. The future growth plans sound really exciting and it's been refreshing to learn how well the team is looked after by senior management."
Digital PR newbie, Beth, joins Evolved with almost 4 years of experience in digital, gained in local digital agencies and a special events company, as well as a degree in Advertising from Northumbria University. When she's not keeping abreast with industry news and building relationships with journalists to secure awesome client coverage, she's improving her working style with ideation books.
And last but not least, we've had another new team member join the Account Management team; Kathryn Horrocks.
Kathryn has worked in a variety of digital roles in the retail sector, including Arcadia plc and SCS, along with agency-gained project and account management experience. She is working across teams to ensure client campaigns run smoothly and client satisfaction remains high.
We wish our new team members the best of luck in their new roles and can't wait to get together whenever it's safe to in order to give a proper Evolved Search welcome! For now, we'll all be staying safe and working remotely – with Zoom quizzes and the like thrown in for good measure!
If you're looking for a new role, keep an eye on our Careers page for new listings, or follow us on LinkedIn for regular updates.