We're thrilled and proud to share the exciting news that Digital PR Consultant, Ellie Morgan, picked up the prestigious Rising Star award at last night's UK Search Awards!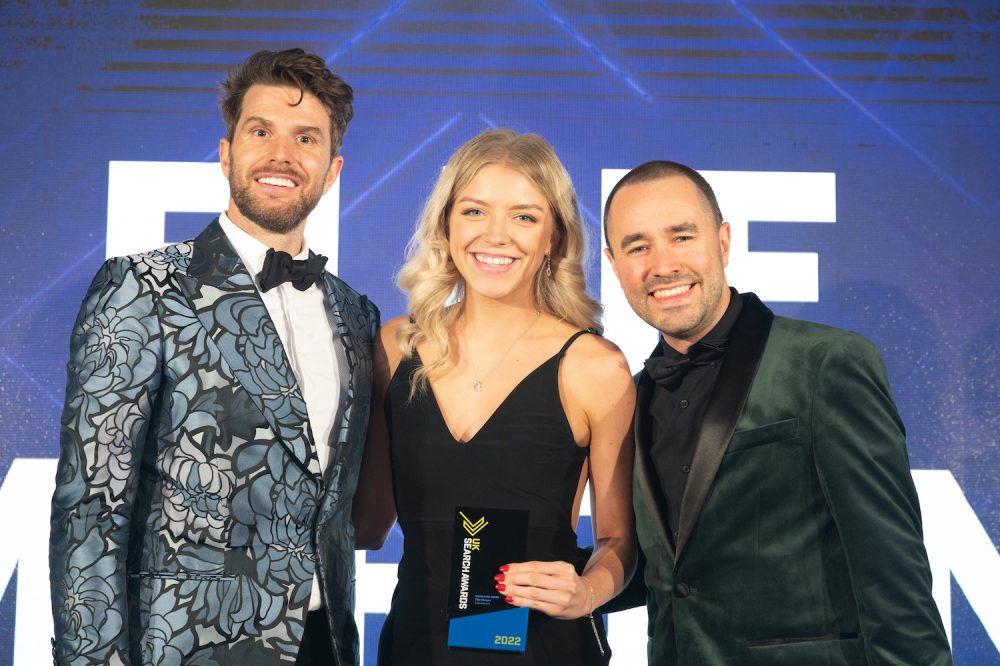 21-year-old Ellie has taken the Digital PR industry by storm, with some incredible campaigns under her belt, along with appearances on the PR People podcast, London SEO Meetup, and more. She's also the gal behind the popular Twitter accounts, Digital PR Memes, and The PR Bible.
The Rising Star award celebrates outstanding talent in the industry aged under 25, highlighting those doing outstanding work in their field at a relatively young age. Our MD, Tom Etherington, is a previous winner of the Drum's rising star award, picking it up back in 2016, so we like to think the judges are spot on with their choice and there's a bright future for Ellie.
Here's what one of the judges had to say about Ellie:
"What impresses me most about Ellie is how willing she is to share her knowledge both internally and externally. The fact that she has been an essential part in changing not only the ideation process but also reporting at such an early age is outstanding."
Jasmine Granton, Ellie's line manager, added: 
"Having Ellie on the team is incredible both from a personality perspective as well as her undeniable work ethic and ability. Whether she's suggesting a new way of tracking performance for clients or leading a cross-industry ideation workshop, Ellie is always pushing herself and the rest of the team to work smarter and think outside of the box. 
Ellie has incredible energy which makes any project you work on with her engaging and fun. What I love about having Ellie on the team is that she's never scared to question what she's being told which often leads to a better outcome or a more thoughtful process. Ellie has come such a long way with her confidence appearing on podcasts and speaking at industry events and I'm incredibly excited to watch her continue to grow".
Ellie joined us back in 2020 upon completion of a Digital Marketing apprenticeship and she's been instrumental in a wide range of client campaigns for the likes of tombola, Beyond Retail, and more. She's an undeniable talent and we have no doubt she'll continue to achieve big things.
We're also pleased to report that we retained our title (sort of!) as the UK's Best Large SEO Agency after winning the Silver award at this year's ceremony.