Driving traffic to your website is important, but often a challenge for many businesses is ensuring that this traffic converts into leads or sales. At Evolved, we work to understand our client's business goals and needs to execute an integrated digital marketing strategy that leads to tangible results. In this post, we will discuss the essential requirements to drive traffic to your website that will actually convert.
Build a strong foundation
Before you start to drive traffic to your website, it is crucial to ensure that you have a good website foundation, not only to help users in the short term but to allow for future growth. Here are some critical elements that need to exist before you start to really drive traffic.
Website structure & internal linking
Websites should be well-structured so a user can find what they need in as few clicks as possible. This can involve well-thought-out site navigation, integrating a search bar into your page design, or even adding contextual internal links in your website copy. If a visitor can't find what they want from you easily, they may bounce from your website and complete their purchase elsewhere.
Product listing and service pages
For eCommerce websites, the interaction your users have with your product pages – and their journey there – is incredibly important. Pages should be built with purpose and contain clear call-to-actions, descriptions, and information, as well as high-quality imagery where possible. Try to ensure that the user is as well-informed as possible to help improve the chances of conversion.
User & landing page experience
User experience is paramount and could decide whether a first-time user becomes a converting customer or not. Your website should be fast to load, avoiding any frustrations with waiting time and potentially causing bounces – especially on mobile as this can help with your organic rankings (as well as help towards improving your quality score for paid search). It should also be visually appealing to keep users engaged.
Content
As the saying goes, "Content is king". Informative, engaging, and relevant content can not only help to attract users but keep them on your website. High-quality content is an important ranking factor for Google (you can read more about Google's helpful content system here), so it is wise to invest and take your time to craft well-written articles, blog posts, and service/product pages that resonate with your audience or customers.
Integrated team
Multi-faceted projects can require input from multiple stakeholders, so it's important that both your internal team and any external providers are integrated as one to achieve your goals. At Evolved, there are often multiple teams working on a singular project, for example, internal linking. Our SEO team wanted to improve internal linking across product category listing pages for a retail client with the goal of crawl efficiency but worked closely with our CRO & UX department to create a proposed wireframe that integrated internal links to deeper categories as standard, maximising both user and search experience.
Driving traffic to your website
Driving traffic to your website involves a combination of tactics and strategies, usually from multiple channels. Consider the following approaches when outlining your goals.
Organic (SEO) and Paid (PPC) Search: Most consumers' first port of call when they are looking for products or services is to 'Google it'. Search Engine Optimisation and Pay-Per-Click search can be really effective channels to use to gain new customers.
Social Media Marketing: Keep your audience up to date with the latest news, or target new customers through paid advertisements – it's an effective tool to increase demand for your product or service.
Content Marketing: You could get potential customers talking about your business by conducting data analysis with interesting results, or by launching an exciting new product like the Pumpkin Spice Engagement Ring we worked on with our client, Angelic Diamonds. This generated a lot of interest, gaining over 300 links from the press, over 400 pieces of coverage, and was even featured on The Late Late Show with James Corden.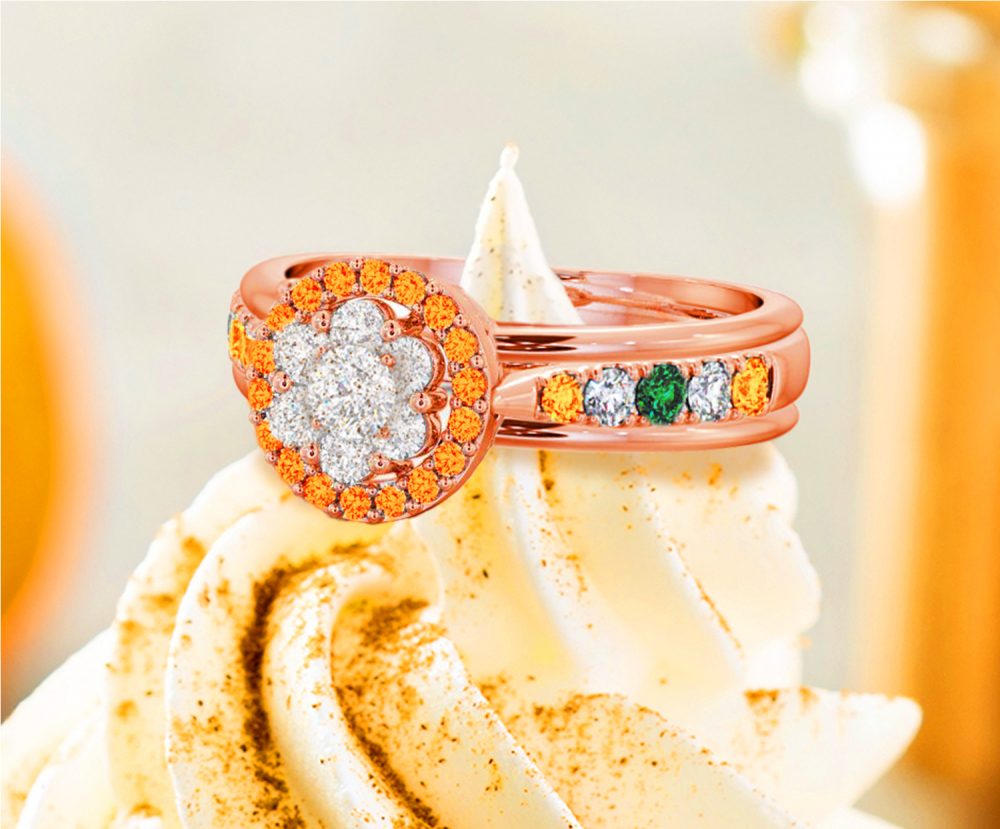 Email Marketing: Email is a great tool to use to drive traffic to your website, whether you're targeting users who have left an item in their basket or announcing a promotion.
Influencer Marketing: Customers have more trust in a product when endorsed by someone they look up to, so if you share a similar target audience with an influencer, a partnership could be a great way to benefit both parties.
Offline Marketing: While a user-targeted online is more likely to visit your website, you should remember the impact that offline marketing can have, especially on brand awareness and search demand. This could include anything from print advertising and direct mail to events.
Measuring conversions & success
Conversions are specific to your business and can take various forms. For some, their main goal is to generate leads through a form, while others are focused on revenue made through products sold directly to consumers. It is important to understand what conversions mean to you before you start to measure and take time to know what is right for your business.
Once you have an idea of how users will convert, there are several ways to measure the success of your campaigns.
Tracking & measurement
You need to have solid tracking in place to understand what your users are doing when they visit your website. This can be as simple as setting up tools like Google Analytics and Tag Manager to track the performance of your campaigns, and user behaviour and identify areas for improvement.
A/B testing
If you want to experiment with changes to your website that could significantly impact how a user interacts with it, A/B tests can help you identify what works best for your audience, and ultimately drive more conversions. You can use this if you want to completely change the design of a page, or if you are simply making small tweaks to your basket, ad copy, or call-to-actions.
Customer feedback
User testing is a great asset to have, but you shouldn't underestimate the value of gaining direct feedback from your customers. Following a successful conversion, use things like surveys or reviews to collect extremely valuable insights on what works well on your website and anything that can be improved. You can use this data to test and experiment even further to improve your website and conversion rate.
Pivoting your strategy
An important part of your marketing strategy is understanding when to adapt which is often required when there are changes to market conditions or consumer behaviour. Whether your business goals have evolved, a new opportunity has appeared or you need to respond to a crisis, you can pivot your strategy to suit.
Understand your situation: Assess the current situation by conducting an analysis of your current marketing strategy and identify what is and what isn't working. Try to look for any external factors these could be the result of, such as consumer trends or economic conditions.
Determine your new goals: Are you looking to target a new market, or do you need to increase revenue after a drop in demand? Re-evaluate your business goals and ensure that they are measurable.
Review your target audience: Once your new goals are set, you may find that your current audience no longer aligns, and you need to reevaluate. User testing and surveys can be useful in understanding your target audiences' needs, pain points, and preferences.
Proposition: Address the changing needs of customers or the challenges by adapting your proposition, ensuring that messaging and creative assets are updated on your website. You need to clearly communicate how your product or service will provide value and solve consumer problems.
New channels and tactics: Consider if there are any new channels to add to your strategy that can align with your new goals or any tactics that may be more effective in reaching your target audience. For example, more businesses with a younger audience are turning to channels like TikTok, especially since the introduction of the shop which has made it easier to convert viewers into customers.
Budget and reallocation: With your new goals, you may need to reallocate your marketing budget to inject more into a certain channel, or a new channel you wish to explore. Try not to neglect any channel of revenue but do prioritise the initiatives that suit your revised objectives and KPIs.
Communication: It's important to be transparent when making significant changes to your business, so keep this in mind when communicating with stakeholders, both internal and external. Your messaging needs to be clear and consistent so everyone is in alignment with the new strategy and can work effectively towards success.
Evaluate: Regularly monitor real-time data and feedback against your updated goals, and flexibly adjust your strategy if needed. This will be an ongoing process and your marketing strategy will likely evolve over time alongside your business growth.
In the evolving digital landscape, driving traffic to your website that converts is both an art and a science. It requires an integrated approach and a well-thought-out strategy that contains a deep understanding of your audience. At Evolved, we are experts in not only driving traffic to your website but also driving traffic that makes a tangible impact on business' bottom lines.
Get in touch to see how we can help your business succeed, too.