The short-to-medium-term commercial outlook for businesses within the Mattress sector going into 2022 has been profoundly altered by the lingering impact of COVID-19. In its summary of sentiment in the sector, The National Bed Federation noted that the supply of materials and labour is now the most pressing concern for retailers in the space, compared to the outlook prior to the pandemic where order volumes had previously dominated people's thoughts.
The role the pandemic played in accelerating the growth of online search volumes in the UK cannot be understated. Figures from Google show that UK search figures for Mattresses have been at an all-time high during 2020 and for a good period of 2021. What is perhaps more interesting as we (once again!) dare to imagine a return to normality, is what we have seen in the build-up to Christmas, in light of the emerging Omicron variant.
With this development, it is perhaps no surprise on the high street to see data from retail-week.com reporting an 8.5% decline in footfall on the weeks leading up to Christmas. What is more perhaps more unexpected is the accompanying decline that Mattress retailers have seen in search volume during this time.
Where the Pandemic overall has been viewed as a relative steroid for traffic in the sector, December proves that in times of peak uncertainty and disruption, COVID and its accompanying restrictions can still prove to be a significant depressant for online demand.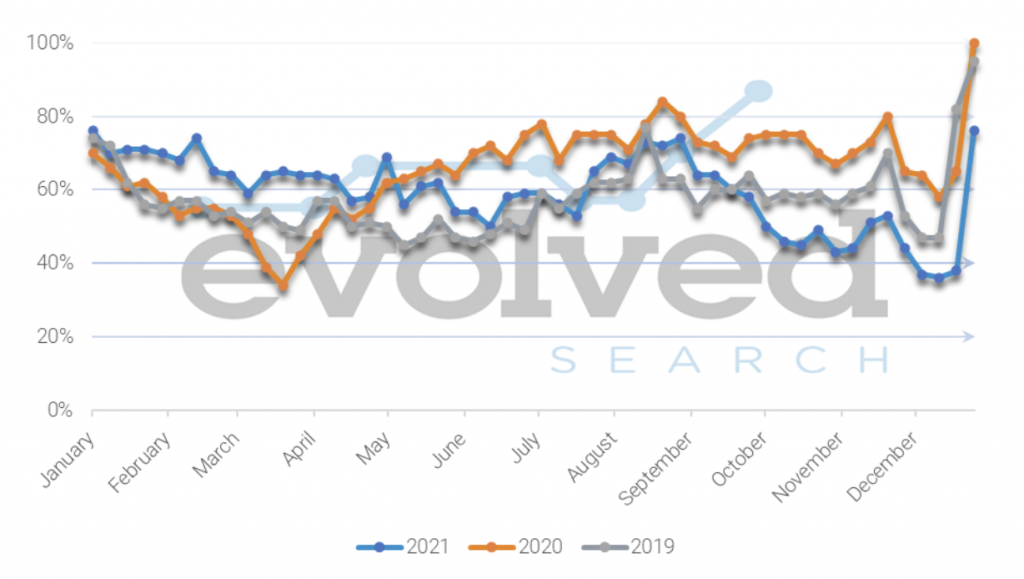 While this trend may be short-lived in the wake of a more optimistic picture on Covid in the New Year, this example of the fragility in trading demand only serves to further complicate any forecast about what and when a return to pre-covid normality could look like.
Within the picture of online trading, the Mattress sector continues to be defined by the dominance of a single player who holds a relatively uniquely dominant position for UK retail traffic across a whole industry. It will come as no surprise to those in the sector that this name is Dreams.co.uk who continue to hold this enviable position.
What may be a surprise is that when it comes to the market value of the traffic they receive, how great this gap is compared to their nearest competitor. It is common for figures to be cited around rankings and traffic to gauge the state of play in a sector but where we can get some true insight is by looking at the equivalent market value of that organic traffic. This removes the fog of traffic from sources with lots of searches and focuses on those visitors with the most commercial intent.
A report compiled by Evolved Search isolating product-related search traffic looking at both mattress specialists and businesses selling mattresses across several lines found that Dreams.co.uk monthly traffic is valued at almost four times the equivalent of the next most visible brand. 2021 has seen a strong upward trend from several other online retailers in the mattress space including Dormeo, Bensons for Beds and Mattress Next Day.
However, when putting these gains in context they continue to be dwarfed by the traffic value enjoyed by Dreams, due in no small part to the site's ability to consistently hold the number one spot for a wide range of the biggest keywords in the mattress search landscape.
Across the thousands of sector keywords we examined, we estimate that Dreams organic traffic is today worth the equivalent of over £2.1 million each month. In addition to this, a breakdown of this value across mattress types reveals that Dreams.co.uk currently receive easily over 50% of all of the traffic value in the sector for Single, Double, King-size and generic mattress searches.
The only exception to this trend in our study was within the memory foam mattress market where the strength of Dormeo as specialists dropped their figure to around 45%.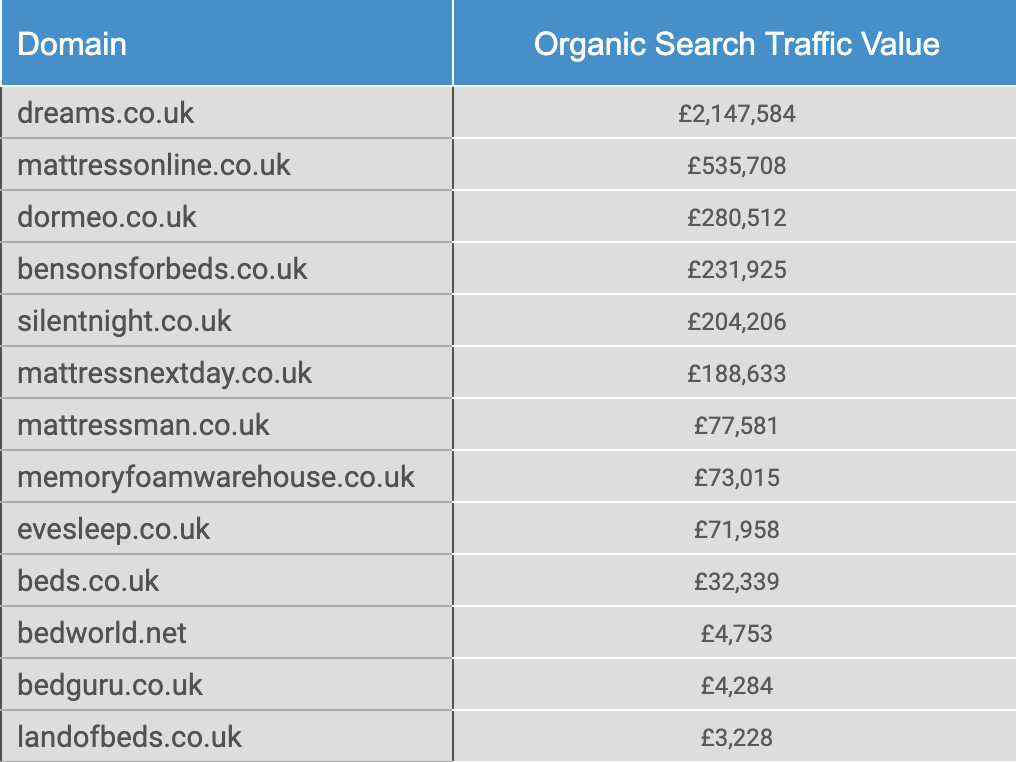 How does Dreams dominate?
Some of the key markers pointing at how Dreams.co.uk has achieved this dominance can be viewed in detail within some of our more in-depth areas of the report. At a top-level, Dreams consistently appear as one of, if not the leading competitor within many of the key areas consistent with SEO success. 
They are number 1 in terms of technical implementation for the use of structured data and lead the way as Google's most consistent top pick for appearing with featured snippets and featured videos at the top of search pages. An analysis of both links to big publications and topical sources of links for the industry also showed them out in front with the most comprehensive profile.
Another competitor that stood out within this same report for the links they had achieved was Evesleep.co.uk. In the case of Eve Sleep, the strong quality of their link profile points instead to underachievement in terms of their progress and the resulting search market share they currently enjoy. This kind of disparity often points to other weaknesses in a domain's approach and there are potential indications that structural SEO issues may be hampering the site from achieving its potential across a fuller range of keywords.
Moving beyond the raw value of incoming search traffic received by each competitor in the industry, a review of the technical performance of each website proved to be illuminating in terms of how page speeds could be leading to an ongoing loss of traffic across the sector.
Based on data provided on 35,000 domains by the SolarWinds platform documenting the impact of speeds on traffic bounce rates, Evolved Search was able to forecast the potential for page speed improvements to retain traffic that would be normally lost for each site based on the current speed performance.
The report identified that a 3-second improvement in load speeds across the sector could produce around £1 million in gains each month from retaining lost traffic that would be currently forecast to bounce. The biggest beneficiary of this, naturally because of their sheer traffic levels would be Dreams, who alone stands to gain £480,000 per month of traffic in reduced bounce rates.
Although other sites with far smaller levels of traffic were understandably not set to benefit on this scale, our forecast shows that the five top domains in the sector are each forecast to make retention improvements worth between £500,00 and £1.8 million annually based on these performance improvements.
Simon Clark, Head of Conversion Rate Optimisation at Evolved who compiled this area of the report commented that "Site speed can often be seen as a nice to have, when in fact there is a linear relationship between site speed performance, visitor behaviour, and revenue outcomes".
If you would like to learn more about the elements driving Dreams' success and get a breakdown of search competitor performance across the industry, you can request the full report by clicking the image below: