As a home and interiors brand there's nothing more targeted than receiving links on hugely popular interiors publications like House Beautiful, Ideal Home, and Real Homes. Not only is this super beneficial for your backlink profile and search rankings, but it's also a great way to secure traffic to your website from your target audience, that could become customers.
This is something we excel at time and time again for our clients in the home and interiors sector with our award-winning approach to Digital PR, so keep reading to find out more about the secrets of our successful digital PR tactics and how you can put similar into practice (or… y'know, get us to help you with that!)
4 Digital PR tactics to secure links and coverage on Home and Interiors online publications
Reactive PR
First up are Reactive PR campaigns, something which we discussed in detail in our recent post on how reactive PR can benefit Home and Garden brands. This technique consists of creating a campaign in reaction to a story in the news that your target audience is passionate about.
For example, our client Tap Warehouse revealed how Google searches for 'regency interiors' increased by 4,800% when Bridgerton was released on Netflix last year. This resulted in linking coverage on Real Homes, whose website received 2.3million visits in January 2022 alone, according to a Similarweb report.
Due to the nature of Reactive Digital PR, the campaigns need to have a quick turnaround and tend to be on a smaller scale. Ideas of news you could react to in the home and interiors sector include Dulux and Pantone colour of the year, celebrity home interiors and trending TikTok DIY trends.
At Evolved we always keep up to date with the news and have alerts sent directly to our inboxes when news stories in our client's industries begin to trend, so we can always be quick on the uptake.
Proactive Digital PR Campaigns
Like reactive campaigns, proactive campaigns are on a smaller scale and can be turned around quickly. This could be a piece offering expert advice, a roundup of interior ideas, or decorating tips.
However, unlike reactive campaigns, they don't need to be concerning trending news. Instead, it can be on something you know your customers have an ongoing interest in.
Knowing that customers of our gardening client Primrose often decide which house plant to choose depending on its benefits, we created a proactive piece for them around house plants that are proven to repel spiders naturally.
This received 38 links in total, including House Beautiful, which is a high authority site in terms of SEO for the home and interiors space with a DA of 85.
Real-Life Case Study Campaigns
Campaigns based on real-life case studies are a great way to utilise real-life examples of home and interior trends. Let's face it – we all love a Before and After, right? This simple tactic has gained links for our clients on sites including Ideal Home, Stylist, and Country Living – to name a few.
Find out more about how we can use this tactic to get you linking coverage on some of the highest authority sites in the home and interiors industry on an episode of PR People Podcast with one of our Digital PR Consultants, Ellie Morgan.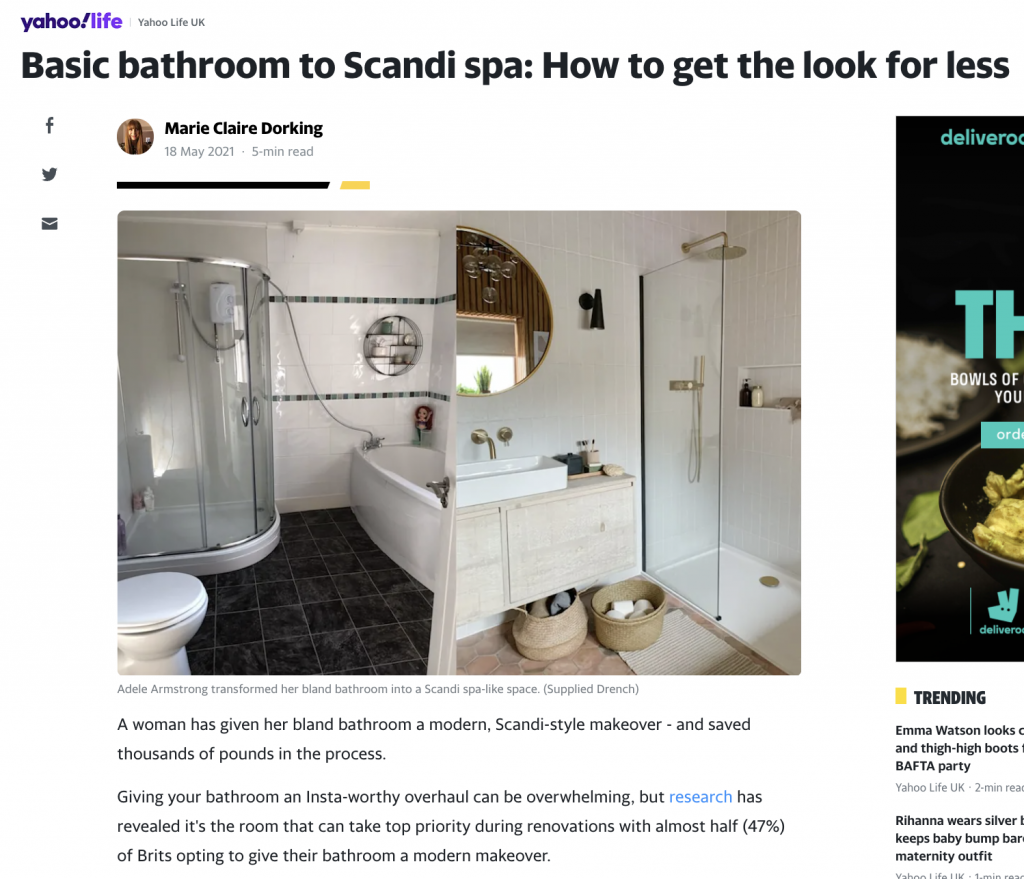 Expert Commentary
One of the most valuable things that interior brands can offer journalists is expert commentary. It's something that journalists are always looking for to support and back up their articles.
This tactic is also a great way to cement your brand as an authoritative voice in the home and interiors sector, so when customers think of the product you sell, your brand will be one of the names that they immediately look to.
We recently got our client Insulation Express featured on Homes and Gardens with expert comment, as well as other publications including The Times! Hard work pays off and it's vital that you build relationships with journalists so that they come directly to you for expert comments, which is something we've managed to achieve for multiple clients and we're seeing great results from.
5 ways to make your brand stand-out to Home and Interiors publications:
Be original – Always research your idea before you go ahead and put together a campaign around it. Most importantly, check if it has been done before. If it's already been covered on your target home and interior sites then either move on to a new idea or think of a way to make it different. Add something that other campaigns don't offer that makes it unique.
Act fast – Three of the four tactics listed in this article require you to act fast to beat any competition. Don't sit on an idea all day before deciding to action it, this should be your priority if you want it to be a success.
Personalise your pitch – Journalists can tell if they're receiving a generic pitch that's been sent out to multiple journalists in different sectors. If your campaign has more than one angle you can take with it, make sure that your pitch is personalised for each sector you plan to target.
Think like the consumer – It's important to remember that the campaigns need to benefit the consumer before they turn into a customer. If your campaign is overly advertorial, it will appear biased to the consumer. Instead, your ideas should be based on the problem-solving or topical interest of the consumer, so they trust your brand and are inclined to click on your website to find out more.
Enlist help from professionals – Of course, these campaigns require a lot more than just thinking of an idea and hoping to get it featured on trusted sites in the home and interiors sector.
Find out more about how we can help secure your brand linking, highly-relevant coverage on sites like Ideal Home, House Beautiful, Real Homes and many, many more, by getting in touch. We'd love to hear more about your business and what you're trying to achieve and come up with a headline-grabbing strategy that gets results.
Looking for more insights?
Why not access our recent Search Competitor Report, focusing on Sofa retailers? We take a look at the likes of DFS, Furniture Village, Loaf and more, to discover the realities of search in the sector and the opportunities there for the taking.