In a creative slump? Or perhaps, you're wondering how to implement a creative content and digital PR strategy for your Home & Garden brand. Well, the team in our specialist agency Home Evolved, has uncovered 6 unique campaigns from the home & garden sector to inspire you.
We've achieved some pretty impressive results for our home and garden clients, along with a handful of awards too from the likes of the UK and European Search Awards, Northern eCommerce Awards, and the UK eCommerce Awards. So if you're part of a brand that's in the market for the kind of expertise and campaigns we execute daily, keep reading for insider tips.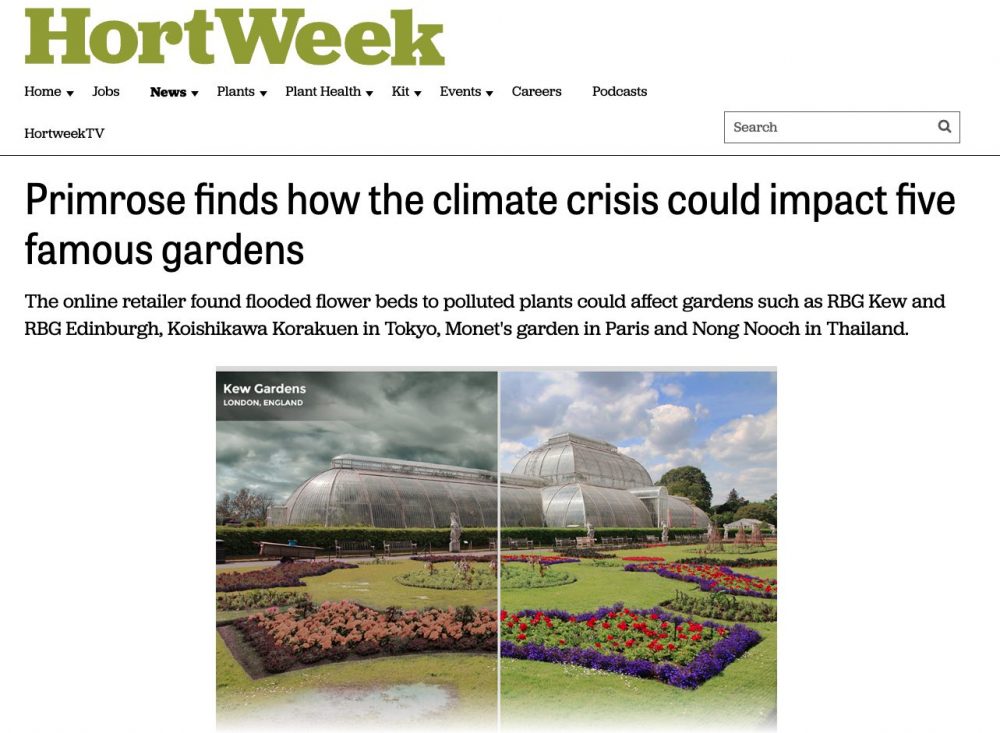 How the Climate Crisis could Impact 5 Famous Gardens Around the World
The climate crisis can cause severe weather changes, such as storms and intense droughts. Neither of these is particularly good for our green spaces. So, for our client Primrose, we decided to imagine what 5 iconic gardens around the world could look like if they were impacted by climate change.
We used scientific research to identify the possible environmental changes in five different countries and used that to predict what famous gardens could look like in the future including, Paris Claude Monet's Garden, Tokyo's Koishikawa Korakuen, and London's Kew Gardens.
The piece picked up topically relevant coverage, such as an amazing feature in HortWeek.
Why did this work? 
People have a reason to care about a subject like this with climate change being on everyone's minds. Although the climate crisis is regularly featured in the news, this campaign provided a unique angle on the story that hasn't been discussed before.
Not to mention the visuals are amazing, with interactive elements that are a valuable asset for journalists.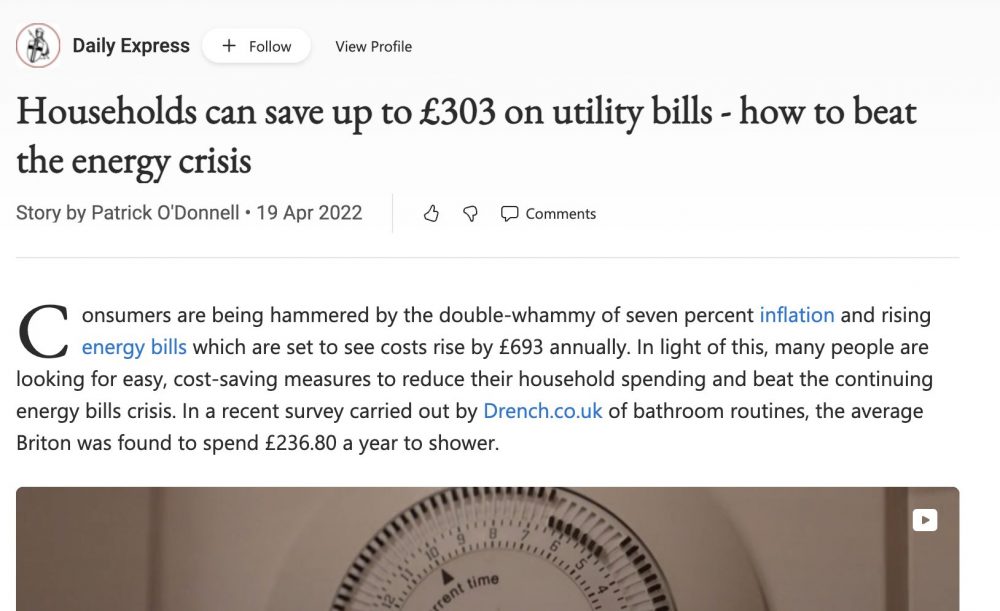 The Rising Cost of Bathing
To create shocking content that is timely for Drench, a bathroom retailer, we decided to uncover just how much our bathing routines are costing the planet and our wallets.
We used survey data to reveal the average British shower and bath routine, and what this looks like individually. Once we had this data, we could then calculate how much water is being used in the UK just from keeping clean.
The water used by showering in the UK is enough to fill 518,493 cruise ships!
However, what got the most interest in this piece was our water bill calculations, with the new rising energy costs we were able to reveal just how expensive a Brit's shower and bath could be over the year. And, use their expertise to provide consumers with tips on how to save £303 on utility bills. For this, we picked up 217 links, with 17 of them being organic.
Why did this work? 
Even home and garden clients can create money-saving pieces, especially at a time when we're focused on the cost-of-living crisis. If you can utilise your expertise and provide unique ways to save money in the home & garden sector, you will provide valuable content to journalists.
But, with everything, timing is key! This piece came at a time when rising energy costs were being announced, proving highly relevant for journalists and readers. 
Naked Gardening Hot Spots
For those that like to prune their bushes in the nude, US company, Lawnstarter has created just the index for you.
To celebrate World Naked Gardening Day, this study uncovered the best cities in the US for nudist gardeners. Lawnstarter looked at several metrics, such as the number of nudists, urban gardening-friendliness, the legality of nudity, keyword data, weather-related metrics, and the safety of nude gardening in each city.
Why did this work? 
Using data-led indexes in your content strategy can be a powerful way to garner highly relevant links. With that being said, not all indexes are created equally; poor data sources, unclear methodology, and a lack of story can make the piece dull.
However, this piece is a good example of an index done well. It's comprehensive with numerous metrics looked at, giving it an authoritative edge – so much so that it was featured in the New York Times.
It also has a great fun and shock factor – it's not every day you read about nudist gardeners!
Inspirational Cities: Which Cities Inspire our Interior Design the Most?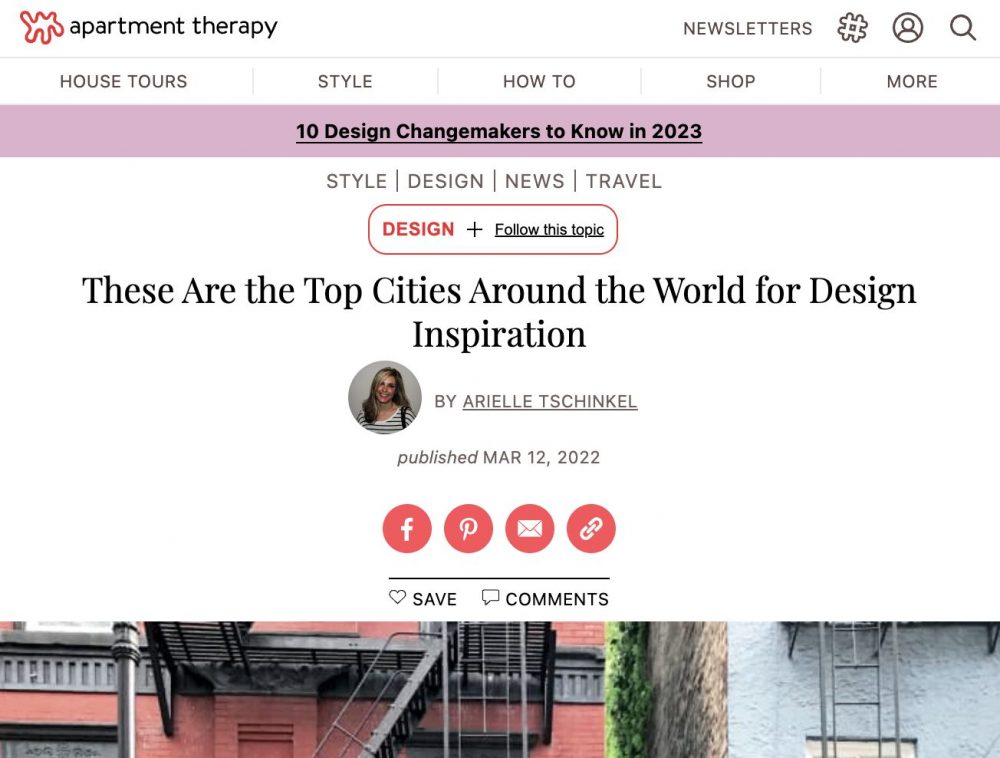 Now for a more aspirational piece! Interior trend-led campaigns are great for home and garden brands, but we particularly like this piece as it offers a unique take on an interior trends-focused campaign. Not to mention it gained some great links from Apartment Therapy and House Beautiful.
Atlas Ceramics, a tile supplier, used Google searches, Pinterest, Instagram, and TikTok data to find which cities are mentioned the most alongside popular interior terms, i.e. Paris décor, and Istanbul tiles. From this, they were able to uncover the most inspirational cities for interiors.
Why did this work?
Trend-led pieces are a focus of interior publications, but this piece carried out research and collected data that journalists couldn't do themselves. Thus, a campaign like this gives them a reason to link back to your brand, or your client.
Here are some other Evolved examples of this approach in practice:
Sleeping with Anxiety
For our client, Mattress Online, we harnessed their expertise to create a tip-focused piece on how to sleep with anxiety.
This piece gained links in the likes of T3, and TechRadar, proving you can generate content marketing results inexpensively. The piece used the client's expert commentary alongside advice, which added credibility to the campaign. Whilst it's great to have larger campaigns (if they're relevant), advice-led pieces can position your brand or your client as experts in their field.
Though, it's worth mentioning that you should avoid commenting on sensitive topics, especially if they're not relevant to you.
Why did this work?
With the world's challenges, more journalists seem to want useful advice that can help their readers. The advice was relevant to the brand, and something our client could comment on. This ensured we appeared credible to journalists.
Patch Plant Paramedics
Patch Plants launched a paramedic service for plants in need, and even stop for a home visit if needed. The company surveyed Brits and found over a third have given up and thrown away plants. Surprisingly, 1 in 10 Brits has admitted to holding a funeral for a deceased plant. 
With that in mind, they decided to launch Plant Paramedics, to rescue Britain's plants. This fun PR stunt obtained links in Metro and House Beautiful.
Why did this work?
This was a playful PR stunt that certainly got people talking. But, instead of creating a fun campaign for the sake of it, Patch Plants had a reason behind it – Brits genuinely need help caring for their houseplants.
And – their survey showcased this. If you don't have the budget for a big survey, find data that backs up why you're creating the piece. This helps journalists understand why they should care.
And there we have it – 6 (with a few bonus examples from us!) successful creative content and Digital PR campaigns in the Home & Garden sector, I hope you found them useful and inspiring! Want to find out more about securing highly-relevant coverage for your brand? Get in touch to find out how we can help.